ABOUTS US
Atlas Security was established in 1993 in Istanbul aiming to operate in the "Manned Security" market. During the early years of its establishment, Atlas served in the fields of "Employment of Security Personnel", "Risk Analysis" and "Consultancy", within a short while, the company added ''Electronic Security Systems'' to its activity areas as well.

"Employment of Security Personnel", "Risk Analysis/Consulting", and "Training of Security Personnel" are the activity-fields of "Manned Security". The company's interior "Security School" and privately owned "Indoor Shooting Range" where the security personnel are trained in accordance with the law no.5188 support the company's activities subject to "Manned Security". Atlas operates in the field of sea-port security as RSO in compliance with ISPS code.

Electronic security systems including CCTV sytems, burglary-alarm systems, fire alarm systems, perimeter security systems, x-ray detection systems, hand held and walk through metal detectors, etc.With its wide product range, company provides all kinds of security services. Atlas also established an alarm center in 2002.
In 1997 Atlas expandsits activities and started to serve in project designing, constructing & installation of shooting ranges. Having constructed nearly 60 shooting ranges, Atlas Security is the leader company tahat moves forward with confidence and determination.Atlas is also managingits own indoor shooting range where variety of tests about shooting ranges are performed and security personel are trained in accordance wit law no 5188.

Atlas security is already involved in the defence industry products. The product range differs from riflescopes, self-luminous quick aiming devices and weapon sights to mountaineering equipments and various equipment s for the army.Atlas is the exclusive represantative of SIG SAUER and is the only company officialy authorized fort he sale in Turkey.

Atlas represents numerous foreign companies in Turkey in the areas of electronic security and projects for shooting ranges.

At present, Atlas Security serves in 7 geographical regions in Turkey. Atlas's services are being organized by regional directorates based in 6 large cities of Turkey. Atlas Security's headquarters is in İstanbul. In 1997 Ankara, in 2000 İzmir, Antalya in 2007 and Mersin regional directorates are put into operation.
MISION & QUALITY VALUES
Mision

Providing continiously, reliable and timely services to its valued customers all about security subjects and shooting ranges .
With the understanding of service, by making differences in the service sector, access to a sample and permanent position.

Quality Values

Accept the "Custemers First" thought as the first job of everyone,
To oversee the work quality,
Honesty and reliability,
To do the job correctly the first time,
Continious improvement and development,
To take personel responsibility and business to adopt,
To ensure the employee competence and
continiously improve them.

POLICY & STRATEGIES
Against the trends towards continiously climbing in Turkey and also worldwide such as terrorism, theft, assault, threats, fire and other unlawful acts,resolve the safety of persons and facility needs with using technoligical means and international standarts, and with execellent education, appropriate planning, seamless execution and effective follow-up accepting the customers gladness as our first target in order to provide security services as an organization and system, with a staff who worked for private duties in the organization of Armed Forces, Prime Ministry and Ministry of Internal Affairs, is a company which operates.
MANAGERIAL STAFF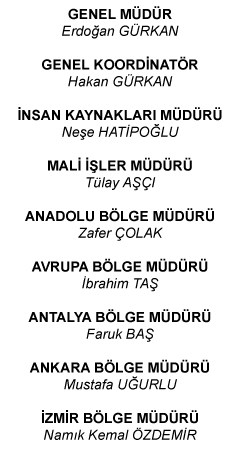 MALİ YAPI
Şirket Ünvanı ve Detaylarımız:
Atlas Güvenlik Sistemleri ve Tic. Ltd. Şti.
İdealtepe Mah. Denizciler Cad. No:23 Kat:3
Maltepe / İstanbul – Türkiye
Tel: 444 08 53 Fax: +90 (216) 371 77 88
www.atlasguvenlik.com.tr
Şirket Sermayesi: 8.292.000 TL
Küçükyalı Vergi Dairesi: 102 004 5026
Sicil No: 313132
Şirket Müdürü: Erdoğan GÜRKAN
| | |
| --- | --- |
| | 2012 Bilanço |